Photo provided by Seal Swim Kaikoura
Have you ever wanted to swim with a seal? In Kaikoura, New Zealand, you can! In this unforgettable experience, you become immersed in an underwater forest that sways with the waves as seals twist in and out of massive stands of kelp. Wetsuit, hood, fins, snorkel, and transportation, are all provided by Seal Swim Kaikoura.
The award-winning, family run operation has been in business for over 20 years. Licensed by the New Zealand Department of Conservation, the staff are knowledgeable and caring.The seals are wild, are not enticed in any way, and their safety and comfort is priority. 
The New Zealand fur seal, also called kekeno, is only found in the Southern Hemisphere. It is a kind of eared seal, like a sea lion. They have powerful hind flippers that can rotate forward so that they can walk on land. 
New Zealand fur seals, once prolific, were thought to be extinct by the mid-1800's. Although they were hunted intensively by both Maori and European sealers, a population managed to survive on the Antipodeans Islands. A successful protection program has led to an incredible recovery, and there are around 200,000 NZ fur seals living today. Kaikoura's coastline stretches 81km (50mi), and is home to approximately 10,000 seals.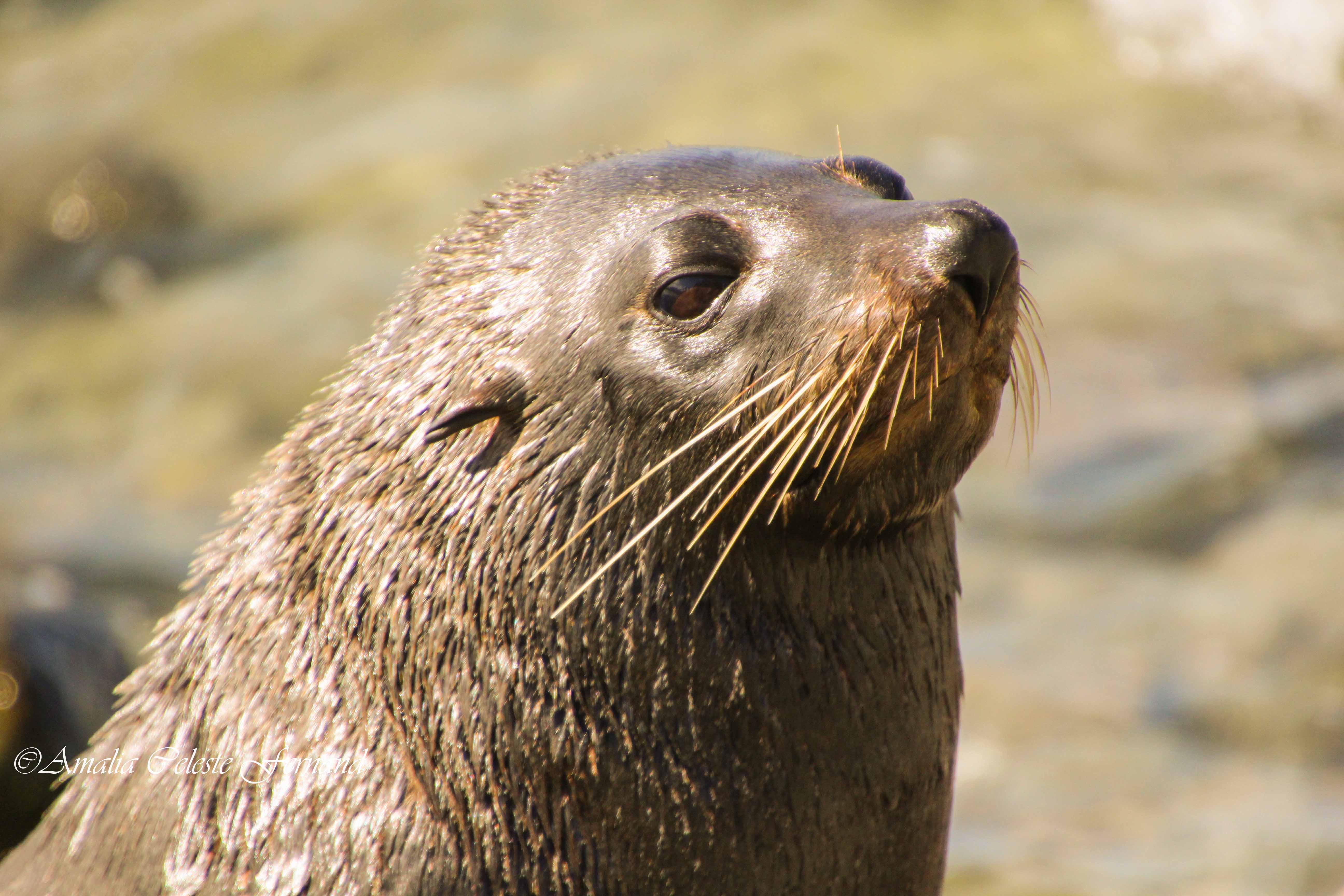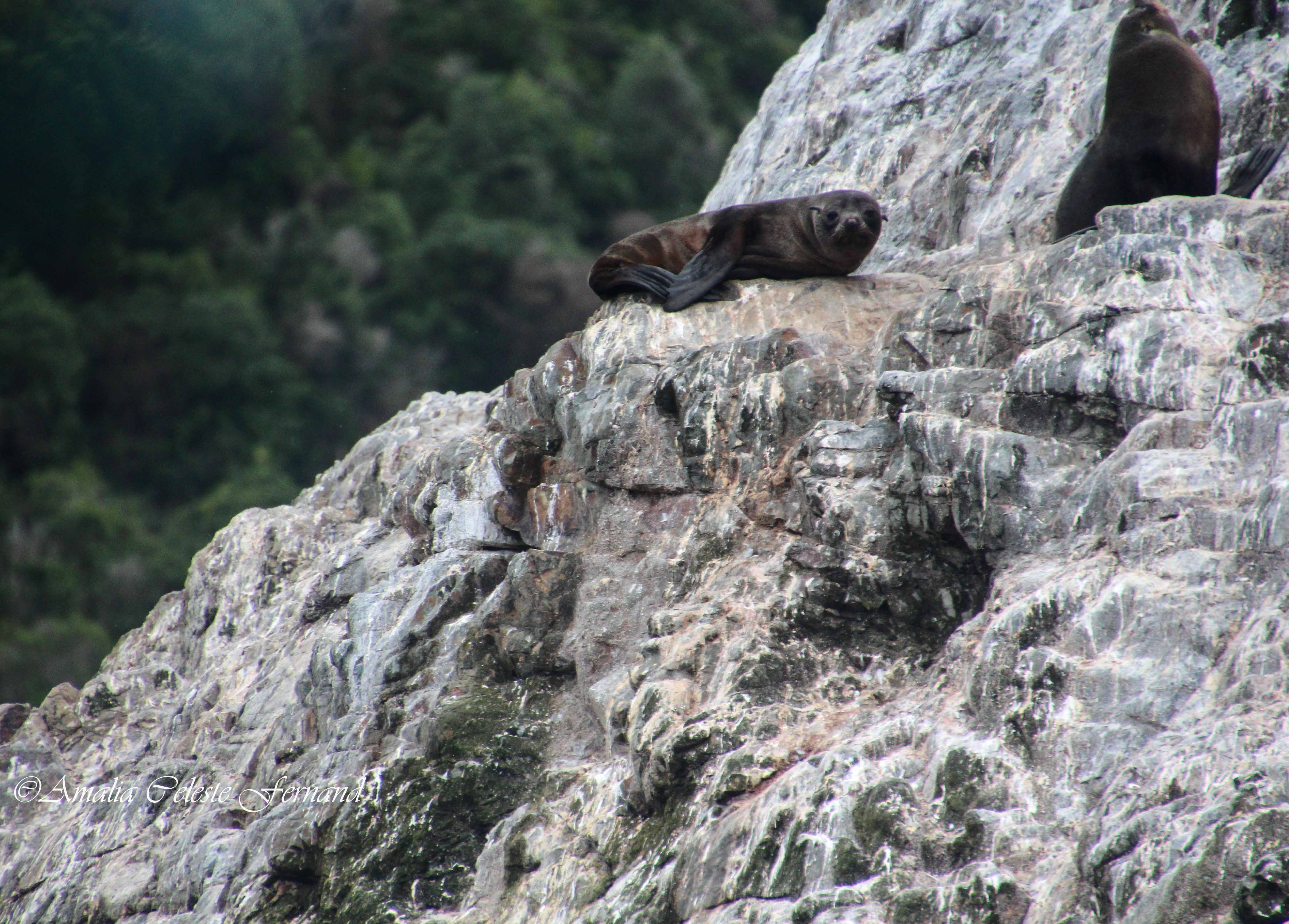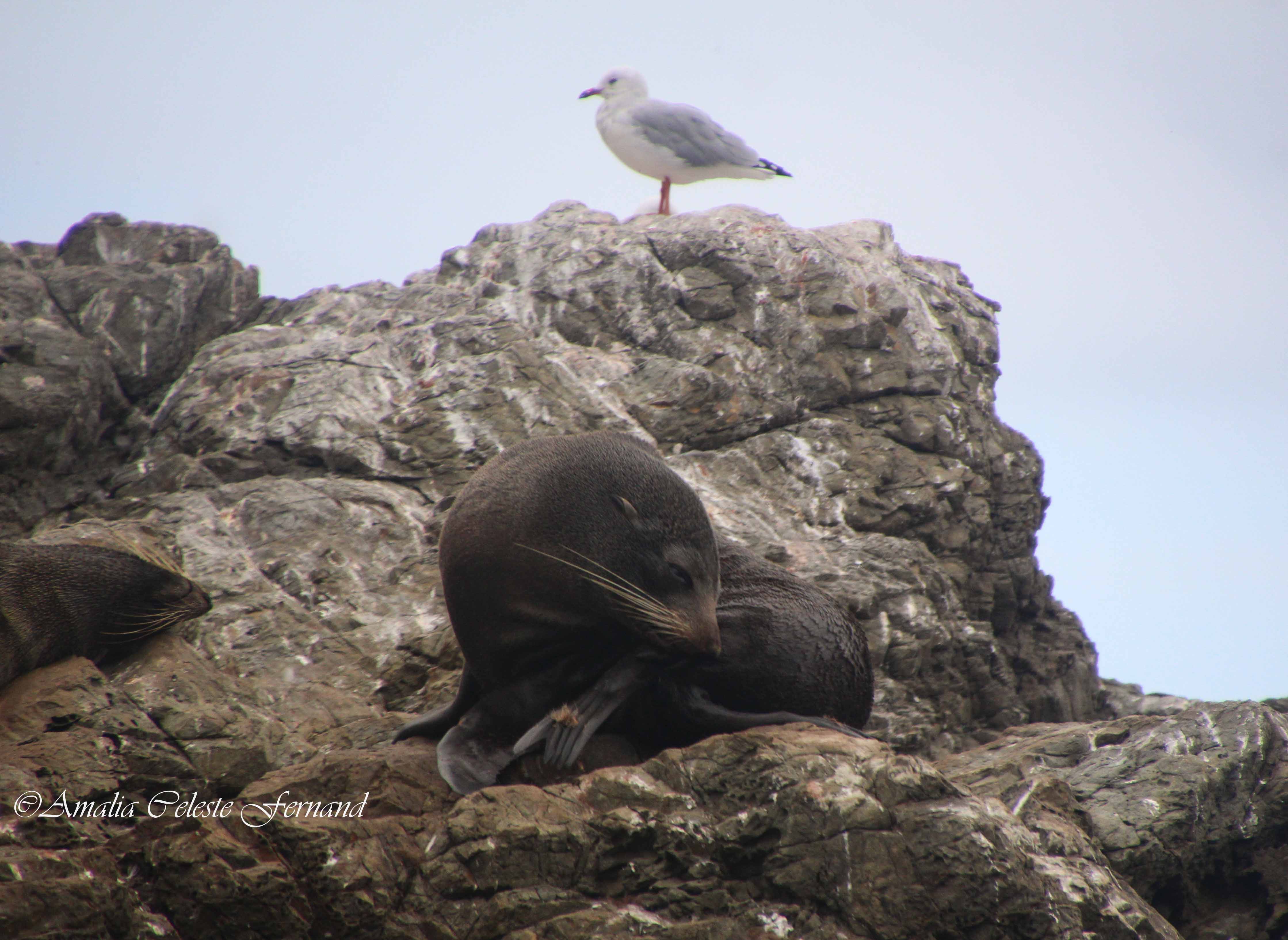 The rules of swimming with seals vary depending on the location, age, and behavior of the seals. For our tour, the three main rules were; Stay in the water, don't stand up, and do not touch the seals. Tourists may not swim with seals on their own and must be with licensed guides. 
New Zealand fur seals are territorial on land, but not in water. They signify aggression with raised bodies and pointed noses. A human standing can look aggressive, and we were encouraged to be quiet and "do as the seal does."
The founder of Seal Swim Kaikoura, Graeme, was our skipper. His son Matt, the current owner, was our bus driver. Years ago, Graeme took friends out snorkeling along Kaikoura's coast. He tried to shoo away the pesky seals, but when his guests got to shore, "they couldn't stop talking about them seals!" And so, Seal Swim Kaikoura was born.
At a small rocky island dotted with lounging seals and screeching seabirds, I slipped into the icy cold water.
The chill took my breath away, but the view was worth it. The kelp and brown algae moved and crashed with the tide, bursting and foaming with tiny bubbles. Large lasagna like sheets waved in and out as spindly spaghetti fingers stretched and curled. Fish darted amongst leafy greens moving to and fro, and the seals dove and twisted with the flow of it all.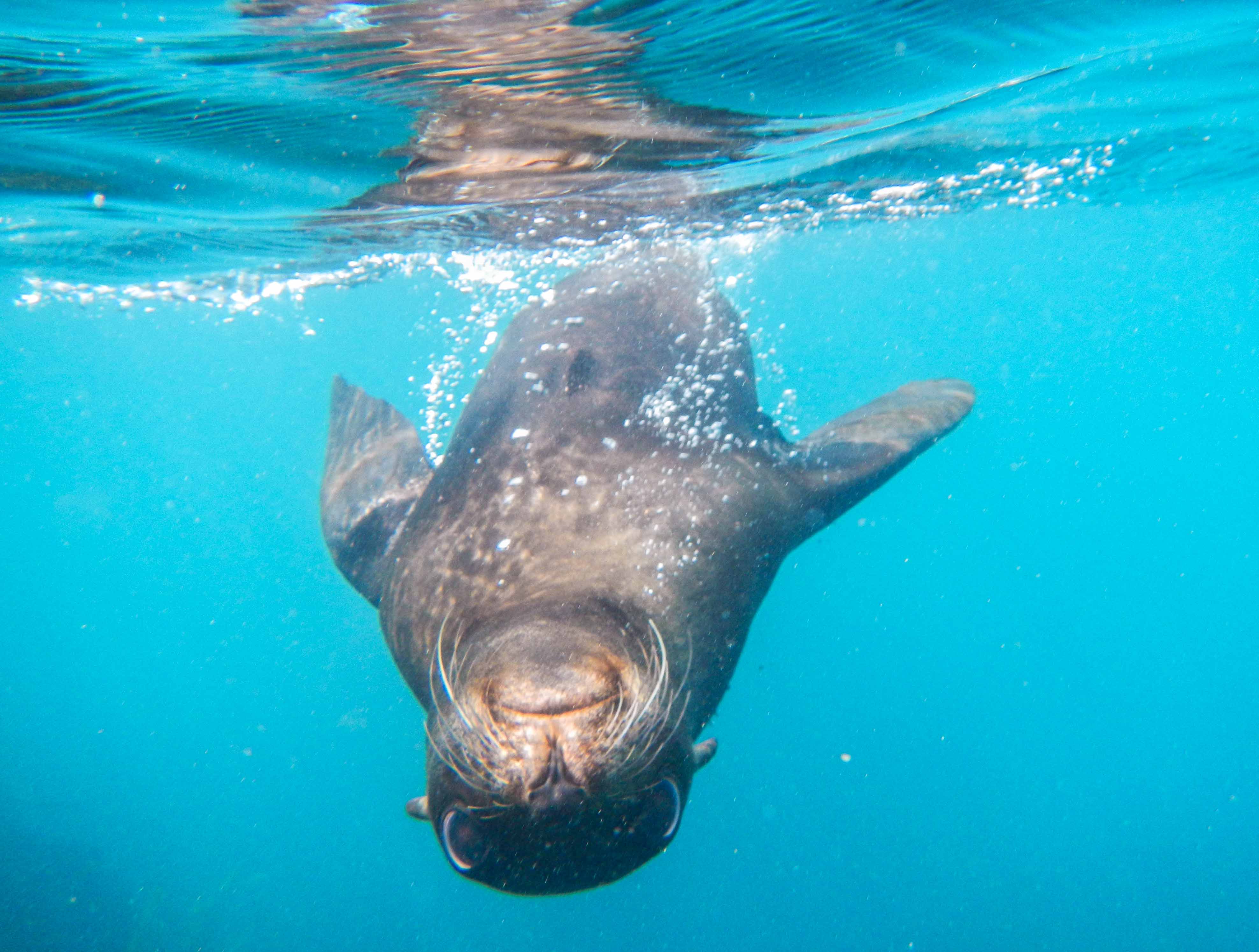 Photo provided by Seal Swim Kaikoura
Two round glassy eyes twirled out from the rolls of moving kelp to stare at me.
Unafraid, and mildly curious, an agile seal circled me. She disappeared and reappeared quickly, playfully observing me on her own terms. I looked around to realize that the small group size and remote location of this tour meant that we had this moment to ourselves. The six others in my group were off having their own individualized experiences.
As a lover of animal babies, I found myself attracted to watching the pups up on the rocks. They stayed together in small groups and went on quick dips into sheltered pools. One brave little fellow slipped into the open water. For a brief moment, our eyes met across the writhing kelp, as the tops of our heads bobbed equally with the movement of the sea. He ducked beneath, and I watched him disappear back into the safety of his tiny island rookery.
The kelp jungle that lies beneath the picturesque beauty of New Zealand's coastline holds an allure of its own. Millions of visitors flock to New Zealand's majestic landscapes each year, but not many take the opportunity to explore the underwater world. If you ever find yourself in Kaikoura, don't miss the Seal Swim. It is a wildlife encounter like nothing else.
I would love to hear about all of the unique places that you have snorkeled! What is the most memorable animal you have seen snorkeling? What other kelp forests around the world have you explored? Has anyone ever swam with a sea otter? That may have to be next for me!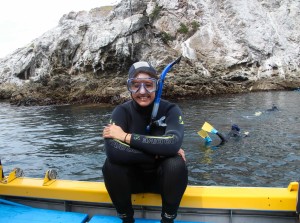 For more great New Zealand pictures, follow me on Instagram
For new blog posts on wildlife encounters, environmental education, and solo travel advice, follow me on Bloglovn'
This first ever amaliaexplores blog post is dedicated to my dear friend Will Huntington, who loved adventure, and sea lions, and who always encouraged everyone to reach their full potential.