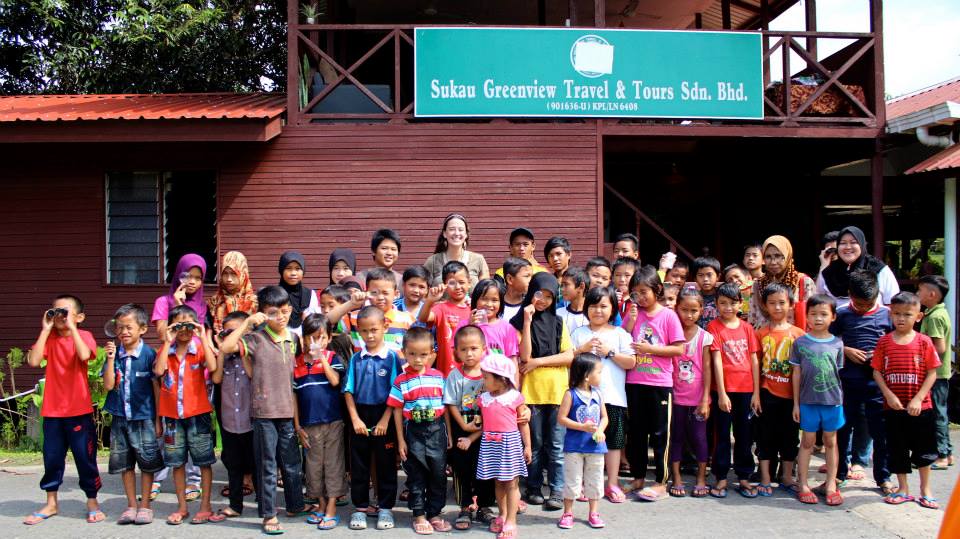 Before I had a blog, I wrote email updates about my travels. For my first Throwback Thursday post, it's time to get the Borneo section of this blog started.
This was written on December 6, 2014, after my first Nature Explorers class in Borneo. I was lucky enough to return to the same village for two more educational programs before departing Borneo a year later.
Dear friends, family, & students,
I am writing to you from the other side of the world to ask you to consider  supporting my volunteer work with environmental education in Borneo.
Borneo is the third largest island in the world and is about the same size as the U.S. state of Texas. It is a place full of unique natural diversity, intriguing cultural history, and rapidly deforesting ancient rainforests. I will be teaching Nature Explorers International (NEI) programs to local children, photographing wildlife for educational publications, and spending six months as a volunteer for Orangutan Foundation International (OFI).  
Last week, I taught an NEI program to over 60 children in the Malaysian state of Sabah in northern Borneo. The children of Sukau spent three afternoons exploring their environment, creating art, and playing games. The first day, they learned the ecological significance of insects and spiders. We played a pollination game, acted out the life-cycle of a butterfly, and made stick puppets.
Magnet fishing poles were a big hit on cold-blooded vertebrate day, as well as amphibian slime, and tadpole discoveries. Proboscis monkey masks made their debut in our final class along with an exciting game of bird behavior bingo. The children were enthusiastic, appreciative, and respectful, and the staff of Sukau Greenview  were helpful and accommodating.  
As I walked through the village on my last morning, small voices rang out from open air windows. "Amalia!" A pitter patter of young feet and laughter trailed behind me: "Amalia," they called, "I will miss you!" Tears welled with a smile that was both sad and happy, proud and meek. After only a few short days, I had impacted them, but how much? The reality is that I am not likely to see them again. Will their memory of Nature Explorers fade or stay with them? How much of a difference have I really made on their lives and how will I ever know?
How can I do more is a question that I am constantly trying to answer.
10805639_10152936313929468_7965567601382010927_n
1978682_10152936307609468_4552711493887608750_n
10428624_10152936668339468_7998096668161720130_n
10805697_10152936309124468_7108436852075296475_n
10603735_10152936682259468_3536310718886224934_n
10436316_10152936300319468_7840348261777520024_n
10428421_10152936672819468_9183909873503490283_n
10406635_10152936314269468_6852539610836622496_n
10406524_10152936314719468_1778260739685623691_n
10635993_10152936311964468_9098708310707799667_n
10408990_10152936671114468_7256282936601969284_n
10410123_10152936308219468_8097898382426713258_n
10392512_10152936310554468_6982171514981698153_n
10438593_10152936681394468_9030636127257973602_n
10378061_10152936675219468_3471388824604490084_n
10336625_10152936307114468_7950086412215123582_n
10250260_10152936679209468_5596440958200622803_n
1965030_10152936676259468_2104976649527327348_n
1947424_10152936682939468_9071414296308521639_n
1908470_10152936642159468_7887255806652088295_n
1461071_10152936636609468_7808091290126322724_n
10806423_10152936300719468_8049383987342460404_n
10805754_10152936674924468_900998051237126355_n
10801907_10152936640374468_3350089644657693594_n
10698666_10152936669734468_7334910592785585986_n
10734124_10152936314724468_8547002370657820542_n
10675535_10152936297834468_5547934527012633740_n
10635739_10152936674264468_3275436696452432225_n (1)
10416578_10152936308069468_4127667648882368901_n
10802032_10152936635574468_1246687635570669114_n
One of my solutions is to publish children's books about the wildlife of Borneo. I will use my wildlife photography as the illustrations for exciting educational animal adventures. These books will be published in multiple languages and one day distributed to local children.
The children of Sukau are lucky to live in an area where the forest is protected, wildlife is abundant, and tourism is the main industry. For much of this biologically diverse hotspot, that is not the story.
Borneo has one of the most rapid deforestation rates in the world. At least 30% percent of their forest cover has been lost in the last 40 years.
These ancient rainforests are some of the oldest on the planet and are home to a high number of endemic species. Most of the deforestation is due to the palm oil industry. An African palm is planted and fertilized to create a monoculture over large tracts of land. Forest patches are fragmented, corridors are filled in, and animal populations become isolated.  
Along the lower Kinabatangan, the Sabah state government has protected a 100 meter riparian corridor. Reforestation projects are in full swing to increase this buffer on both sides of the river. Tree species grown in local nurseries support the regional economy, and NGO's are working closely with the state government and volunteers. The goal is to have all Corridor of Life areas planted by 2020. 
Borneo is a place like nowhere else on earth. Herds of pygmy elephants snorkel across wide expanses of river to struggle up muddy banks. The song of the Bornean gibbon echoes through the treetops, as giant crocodiles lurk on shadowed shores. Wild orangutans make their nests in an ancient canopy, while the longest snake in the world slithers on the forest floor below. The river Kinabatangan is wild, untamed and free, the real Borneo.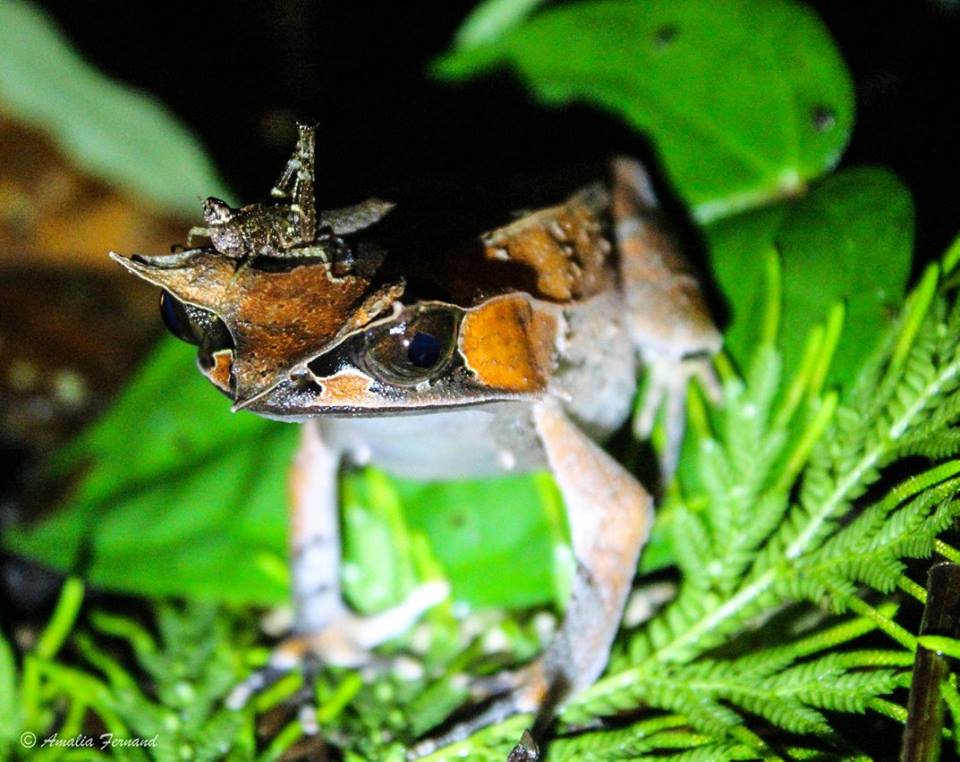 11751968_10153563546344468_545206546596786832_n
11258228_10153563544289468_3366574196223943981_n
11952999_10153643905374468_8884291893307014143_n
11062015_10153563542464468_4766245272330883093_n
11181589_10153563546869468_5939127707866872219_n
11755730_10153563515179468_7502574237844088751_n
11822361_10153563498699468_7940767912853210221_n
11224279_10153563542749468_4636557903616227704_n
11921682_10153617994339468_4230133578237715010_n
12019842_10153693015299468_2252544509117795672_n
11755849_10153563514834468_6719115574194089758_n
12049629_10153712443879468_6848322368825116050_n
Education is imperative to conservation.
The future preservation of the lower Kinabatangan River is rooted in education. Very few resources exist for children both internationally and locally about the endangered wildlife found here. My Borneo children's series will include books on the following subjects: endangered animals of borneo, monkeys of borneo, proboscis monkeys, pygmy elephants, and more!  
I plan on involving U.S. children and Indonesian children in cultural exchange projects and unforgettable interactive educational experiences.  Please let me know if your school or home-school group would be interested in getting involved!
Show your support through a simple $5 donation, and in turn I will work hard to show you a part of the world that most people never have the opportunity to see. Let me share this experience with you through my eyes. Let me teach you the lessons I learn, bring you along with the struggles, and rejoice with you during the triumphs.
Donations will go directly to art supplies for the children and to families for home-stays while completing volunteer work. I encourage you to follow along with this adventure and learn about this very special island through exploring the educational links and resources that I will provide.
I am an environmental educator, a writer, and a photographer. I have 15 years of experience teaching NEI classes in 12 countries and throughout the United States. This has led to developing a unique interactive environmental curriculum that has proved to be effective and successful anywhere in the world.  
I find that there is an innate desire in children of all backgrounds to better understand our earth. I have always encountered a universal reaction to my educational methods that crosses language and cultural barriers. I focus on classification and conservation of local species and ecosystems (particularly those of primates), work closely with communities of rural villages, and partner with educational and environmental organizations.
Each environmental lesson is tailored to the individual region and involves a nature walk, games, and art. I believe in incorporating creative artwork, educational crafts, and performance art as important mediums to enhance lessons and perpetuate learning throughout the community. The joy and pride that children feel in having the opportunity to express their individual creativity makes them more likely to educate others while sharing their artwork. I always remind my students to use their projects as a teaching tool, and to continue exploring and discovering.  
I have a Master of Science in Ecological Leadership and Education and a BA in Environmental Studies with minors in Marine Science and Anthropology. I founded Nature Explorers International and work to help children foster a greater understanding of their environment, an excitement for learning and exploration, and a deep set love of nature that lasts a life-time. If you support this mission, please consider supporting this project and receive great rewards at every donation level! Go Fund Me
"Most tourists, they come to see the nature, take pictures of the nature.  They do not come to teach the children about the nature. It is very exciting for us while you are here."  My friendly host said with a big smile.  
"What we study most in school is English and science!" Hana, my eager young assistant and translator told me proudly. Local teenagers came early and stayed late each day to play the role of volunteer assistant and translator.
You could be an orangutan and a proboscis monkey too! For a $5 donation you will be emailed templates to these brand new Nature Explorers primate masks along with accompanying educational materials.  Great gift for the children in your life!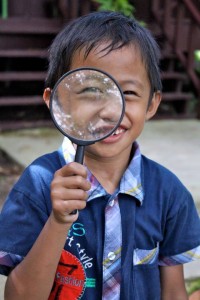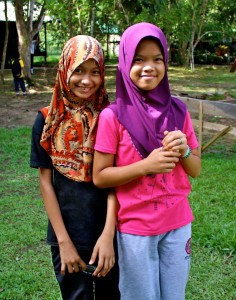 Nature Walks with the binoculars, magnifying glasses, and bug boxes that I have brought provide children with a fun and interactive outlet for exploring their outdoor environment. The first two Malay words I learned were serangga and labah labah (insects and spiders).
Original post in Newsletter Form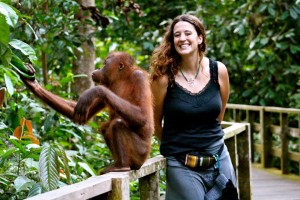 What Borneo animals would you like to know more about? What questions do you have about eco-tourism in Sabah? I would love to help!