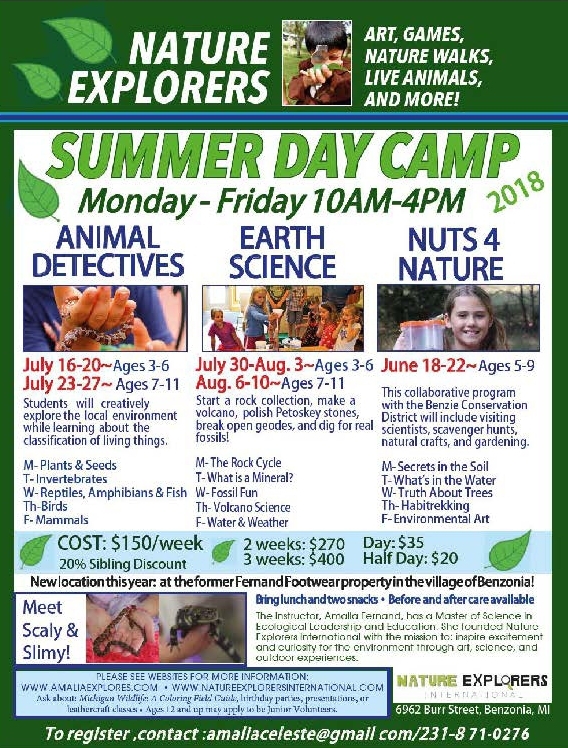 Enrollment is open for Nature Explorers Summer Camps, 2018. Space is limited, and a refundable deposit of half of the registration fee secures your spot.
After years of moving from space to space, there will finally be a permanent indoor and outdoor classroom designed just for

Nature Explorers

!! The new location is in the village of Benzonia, on ⅔ of an acre at the corner of Burr Street and Milliron Lane, behind the Roadhouse Restaurant.

The large indoor classroom was once my father's handmade shoe shop, Fernand Footwear. My sister and I have bought the property, and book proceeds are going towards it's transformation. The outdoor classroom will feature a vegetable garden, chickens, a water table, and worm farm, plus a wooded area for building forts, picking berries, and exploring on nature walks.
Thank you to everyone who contributed to the Kickstarter to make Michigan Wildlife: A Coloring Field Guide a reality. When you register for camp this year, you will have an option to purchase Michigan Wildlife: A Coloring Field Guide for an additional $15. Books can either be shipped now, or picked up on the first day of camp. If you choose not to include a book, than your child will be given a packet with copies of some of the pages. The natural history information included, such as track and scat measurements, bird calls, and species lists will be an exciting addition to this summers programming!


To register for camp, please email me at amaliaceleste@gmail.com with the following information:
Names and ages of children attending

The weeks or days they plan on coming

Number of copies of the field guide you would like
There are 5 camps in Benzonia this summer, Monday through Friday from 10am-4pm with extended care available upon request.
June 18-22: Nuts 4 Nature, Ages 5-9 (In partnership with the

Benzie Conservation District

).

July 16-20: Animal Detectives, Ages 3-6

July 23-27: Animal Detectives, Ages 7-11

July 30-August 3: Earth Science, Ages 3-6

August 6-10: Earth Science, Ages 7-11
20% Sibling Discount

Animal Detectives: Students will creatively explore the local environment while learning about the classification of living things.
M- Plants & Seeds
T-Invertebrates
W- Reptiles, Amphibians & Fish
Th-Birds
F- Mammals
Earth Science: Start a rock collection, make a volcano, polish Petoskey stones, break open geodes, and dig for real fossils!
M- The Rock Cycle
T- Crazy for Crystals
W- Fossil Fun
Th- Volcano Science
F- Water & Weather
Nuts 4 Nature
This collaborative program with the Benzie Conservation district will include visiting scientists, scavenger hunts, natural crafts, and gardening.
M-Secrets in the Soil
T-What's in the Water
W-Truth About Trees
Th- Habitrekking
F-Environmental Art

Nature Explorers Calendar of Events
June 4-6
9am-4pm: Nature Explorers Colorado, Englewood CO
June 16
2-4:30pm: Fairies & Forts at the Michigan Legacy Art Park, Crystal Mountain.
July 2-3
10am-4pm: Shared Space Studio: Animal Detectives, Pentwater
July 12-13
Junior Member program, Walloon Lake Conservancy
August 30-31
10am-4pm: Shared Space Studio: Earth Science, Pentwater
For registration information, please contact: amaliaceleste@gmail.com or 231-871-0276