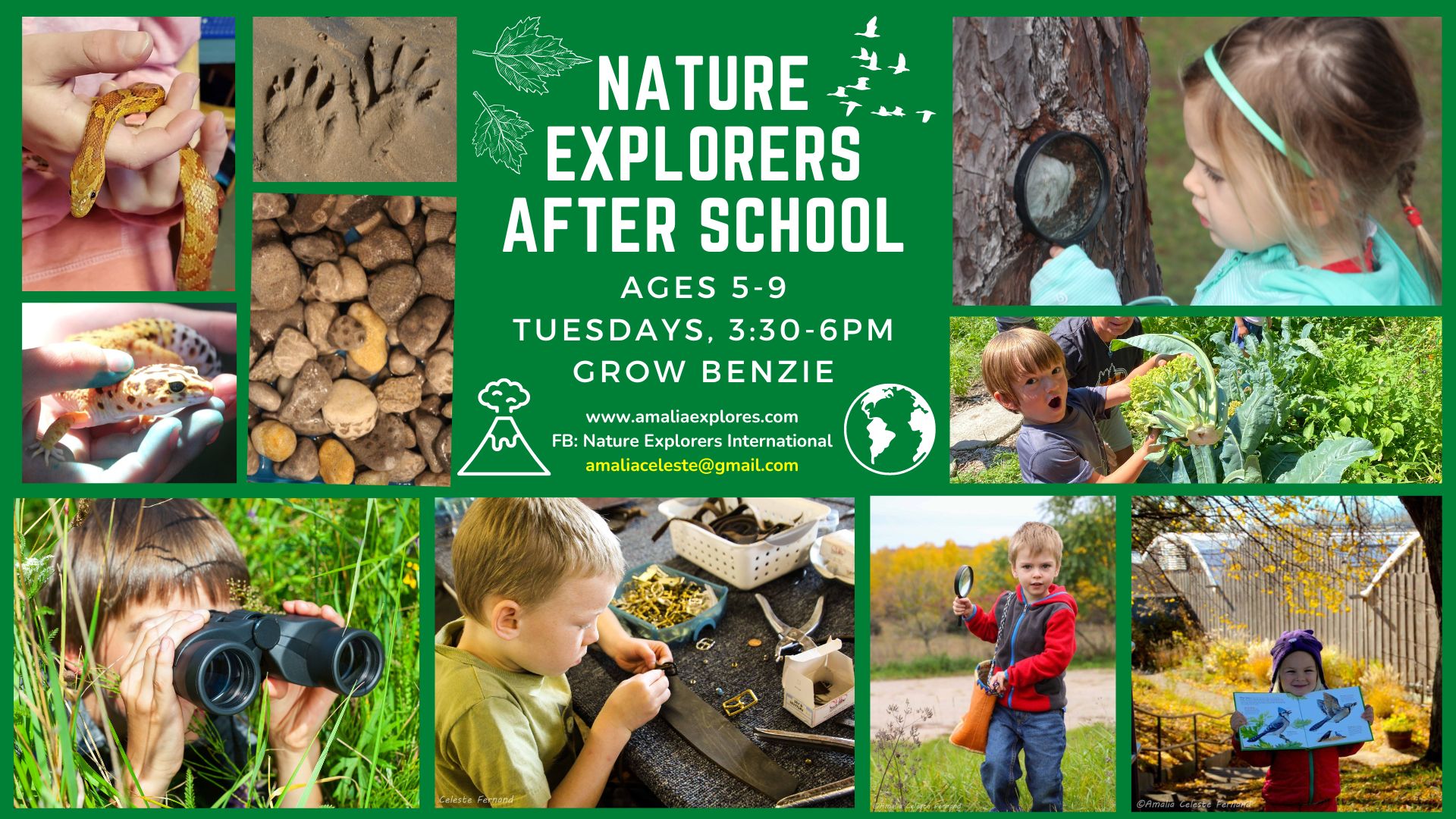 Nature Explorers International is back at Grow Benzie with after school fun for ages 5-9. Explore natural concepts through science experiments, art, games, outdoor exploration, live animals and more!
Weekly themes are below, drop-in when you can, or sign up for either a session or the semester at discounted rates.
Tuesdays, 3:30-6pm at the Grow Benzie Event Center
5885 Frankfort Hwy (M-115), Benzonia
(drop off time flexible depending on school schedule).
Ages: 5-9
Cost:
Full Semester (30% Discount): $210 for all twelve weeks
Hands- On Earth Science (3 weeks): $60
Mysteries of Autumn (6 weeks): $120
Handmade Holiday (3 weeks): $60
Single Class Rate: $25
10% sibling discount
To register, fill out this Google form: https://forms.gle/BbiatNEMJKdBMSRe7
For questions, pleaseemail: amaliaceleste@gmail.com
HANDS-ON EARTH SCIENCE
Gain an introduction to geology through science experiments, art projects, and specimen identification.
September 12: Michigan Rocks
Identify common local rocks while learning about the rock cycle and creating a rock collection box.
September 19: Fossils and Crystals
How are fossils formed and where are minerals found? Take home examples, dig for fossils, and test minerals.
September 26: Volcano Fun
Learn about the different types of volcanoes and where they are found by making a volcano science experiment.
THE MYSTERIES OF AUTUMN
Discover the reasons behind the changing seasons through focusing on a different natural group each week.
October 17: Bird Migration
Which birds migrate and where do they go? Listen to bird calls and make Migration Mobiles to find out!
October 24: Why Do Leaves Change Color?
Find out the science behind how and why leaves change color while making Fun Fact Fall Placemats!
November 7: Invertebrate World
Where do all the creepy crawlies go? Take a closer look at the life cycle of insects and spiders.
November 14: Where are the Frogs and Turtles?
Discover the fascinating field of herpetology while learning how local reptiles and amphibians survive the winter and meeting live animals.
November 21: Who's Hiding Out There?
Which animals truly hibernate? Learn about hibernation and how to identify mammal tracks, scat, and signs.
November 28: Under a Frozen Lake
What do Michigan fish do in the winter? Make magnet fishing poles while identifying native species.
HANDMADE HOLIDAY
Make your own gifts and cards while learning about global cultural traditions.
December 5: Cards and Paper-making
For 4,000 years, Egyptians used papyrus to make paper. Take a journey through history while creating Holiday cards, practicing the art of stamping, and making our own paper.
December 12 : Beading and Clay
Cultures around the world express themselves with both clay and beads. Learn the basics of beading and make a pinch pot.
December 19: Leathercraft
The ancient art of leather crafting may date back to as early as 1300 BC. Learn the skills you need for basic leathercraft such as tooling, punching, skiving, and riveting while creating bracelets, earrings, or key chains out of repurposed leather scraps.
More NEI Programming:
Snow Science Winter Camp at Grow Benzie December 21 & 22
Inquire to find out about forest kindergarten lessons for ages 3-5 on Thursdays locally.