Junior Birdwatchers, Ages 4-8

, FULL

July 17-20

Practice birdwatching techniques while listening to bird calls, playing games, and creating art. Discover the characteristics of birds through meeting new baby chicks and ducklings. Find out what makes raptors different from other birds, learn to identify common North American songbirds, and start a species checklist and bird journal. Through nature walks and scavenger hunts, explore the local environment while finding evidence of native wildlife.

Monday: Songbirds

Tuesday: Waterbirds

Wednesday: Raptors

Thursday: Tropical birds
Earth Science Explorers, Ages 6-11

, FULL

July 24-27

Dig for real fossils, break open geodes, start a rock collection, make your own mineral testing kit, polish Petoskey stones, and erupt volcanoes! Learn about the rock cycle through hands-on experiments, creative art projects, discussion, and games. Outdoor exploration, live animals, and teamwork games will all be part of the fun.

Monday: Rocks

Tuesday: Crystals

Wednesday: Fossils

Thursday: Volcanoes

Please note: The age range of this camp has now been extended to include six year olds.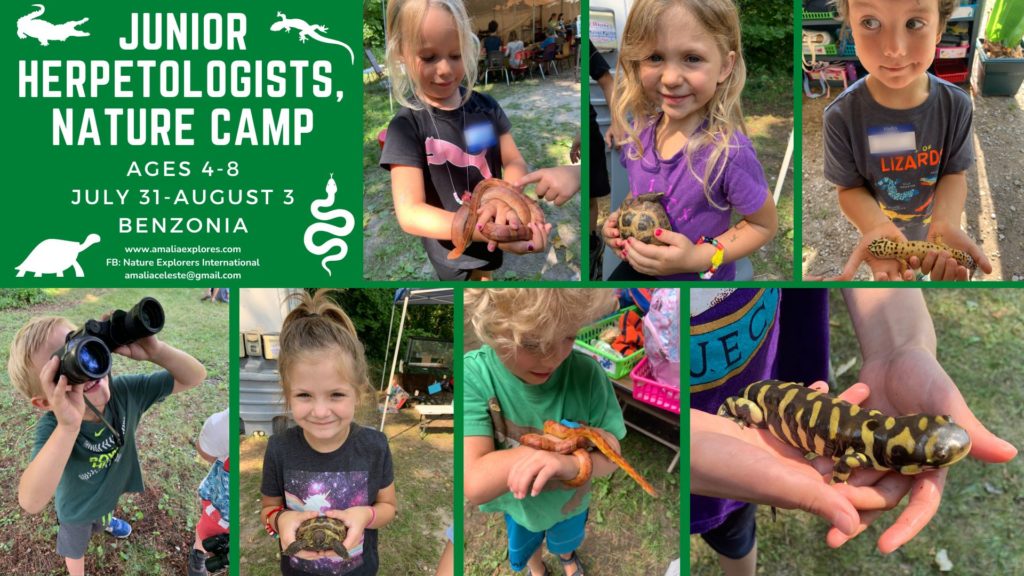 Junior Herpetologists, Ages 4-8

, FULL

July 31-August 3

The study of reptiles and amphibians is called herpetology. What do salamanders and frogs have in common with snakes, lizards, turtles and crocodiles? How are they different? Handle live program animals, listen to frog calls, and investigate bones, snake sheds, and turtle shells! Nature walks, games, crafts, and science experiments will introduce the fascinating field of herpetology.

Monday: Frogs and Salamanders

Tuesday: Lizards

Wednesday: Snakes

Thursday: Turtles and Crocodilians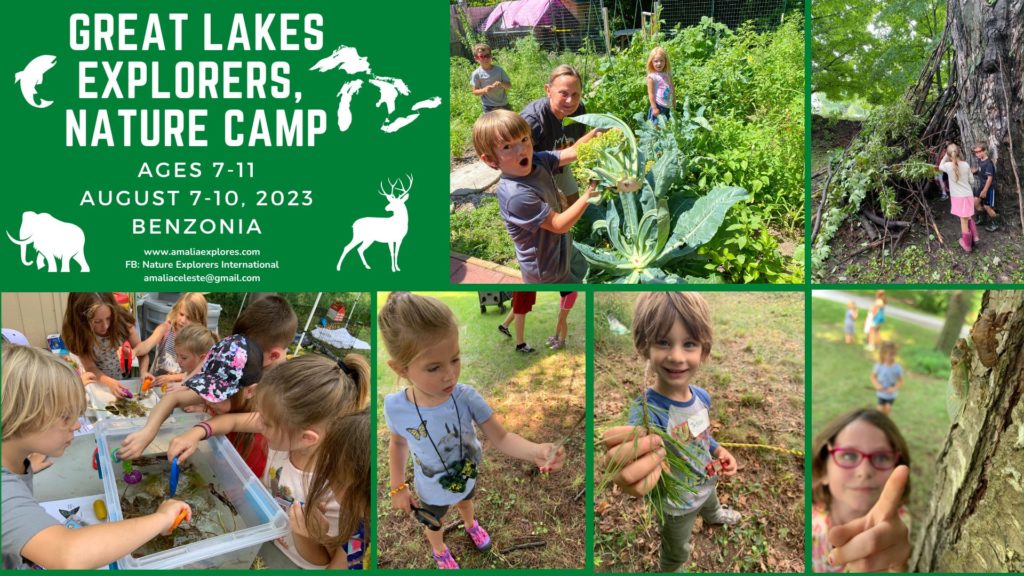 Great Lakes Explorers, Ages 5-11
August 7-10
The last week of the summer is the only camp with spaces still available! The age range has been extended to ages 5-11.
Explore the local environment through nature walks, games, art, and science experiments! Dip net for macro-invertebrates, handle live reptiles and amphibians, and identify mammal tracks. Take a closer look at the paleontology of Michigan's pre-history. From Devonian age corals to wooly mammoths and giant beavers, what did the geologic timeline of life look like in Michigan compared to today? 
Monday: Fish
Tuesday: Invertebrates
Wednesday: Wildlife
Thursday: Prehistoric Animals
Please note: The age range of this camp has now been extended to include six year olds.
Details:
All day camps are held Monday through Thursday, 10am-4pm.
Cost: $200
Day Rate: $50
Half Day: $25
~A 10% sibling discount is applied to each sibling when multiple siblings attend the same week of camp.
~An outdoor classroom will be set up under a large tent in the lower parking lot.
~Registration opens February 1st. Space is limited.
TO REGISTER, EMAIL: amaliaceleste@gmail.com; 231-871-0276
The Camp Director, Amalia Celeste Fernand, has a Master of Science in ecological leadership and education, and a background in environmental, experiential, and Montessori education. She has facilitated programming with children in countries around the world, and recently published her first book: "Michigan Wildlife, A Coloring Field Guide". Amalia founded Nature Explorers International (NEI) with the mission to: inspire excitement and curiosity for the environment through art, science, and outdoor experiences. She now teaches live, online nature and Earth science classes on Outschool.
https://outschool.com/teachers/Amalia-Celeste-Fernand
Nature Explorers Summer Day Camps are licensed through the State of Michigan.