January 19, 2012
Shades of blue disappear into distant clouds through the layered peaks of the Sierra Madre mountain range in Chiapas, Mexico. Steep hillsides are dotted with the dark green leaves of the coffee plant, and it is upon this land that the Tztotzil Maya have lived for centuries. Coffee has been grown here since the beginning of the 18th century, and half of all organic coffee in Mexico is produced by indigenous farming groups.
Chris Treter of Higher Grounds Trading Company in Traverse City, Michigan, has been working with Project Chiapas in this community since 2005. Through his organization, On The Ground, he helped to establish a fair-trade coffee cooperative that includes 700 local farming families. Much of the coffee is grown organically, and the people are compensated justly for their crops.
I was invited to teach an after-school Nature Explorers International program this week for the local children at the Maya Vinic Coffee Cooperative. On the first day, five children came that spoke neither Spanish or English. We had a terrific afternoon learning together all the same, and left feeling happy and excited for more days to come.  
The children understand me in a way that is difficult to describe. They couldn't understand hardly anything that I was verbally saying to them. But, they still managed to dissect a seed and encounter the embryo. They colored, cut out, and glued a seed diagram onto a paper. They drew what their seed needs to grow and the parts of the plant. We went on a nature walk, where they found seeds and plant parts, and collected leaves. They made leaf rubbing books, and they picked out 5 crayons to take home with them to use in their books.
The second day they learned about insect and spider body parts, made a Build-A-Bug necklace, went on an invertebrate collection nature walk, and made butterfly stick puppets. By the third day they were arriving an hour early. They showed me the coffee plantation, played Bird Behavior Bingo, and chose between making a spider or howler monkey mask. 
How did everything go so smoothly as I spoke in imperfect Spanish to children that only know Tztotzil Maya?  
There is a deeper level of communication that goes beyond words. 
399789_10150596748869468_624198736_n
394363_10150596755854468_905451149_n
397568_10150602498199468_2002484305_n
395182_10150599069969468_628828582_n
395488_10150596747439468_1334104522_n
395919_10150602539099468_1458766293_n
396793_10150602542794468_1454388160_n
399432_10150599075939468_924368709_n
400496_10150599091244468_1888122126_n
401269_10150602544034468_293782694_n
402412_10150599090849468_542950177_n
402485_10150602586329468_584015249_n
403339_10150602533394468_1113349179_n
402259_10150603130574468_1429294466_n
404337_10150602531349468_276019470_n
404536_10150602540934468_645797518_n
405255_10150599053504468_2087746639_n
407376_10150596749184468_765862543_n
408903_10150599072499468_1087982947_n
395453_10150602555004468_717143966_n
It is primal, it is from the heart, it is soul to soul, and in a way, it can be more powerful than verbal language. Words can lie and deceive, words can cause betrayal and disappointment. Children understand a more basic level of communication that cannot be masked or altered. The simplicity of truth comes through expression, gesture, body language, voice fluctuation, eye contact, exclamations, and the genuine warmth of kindness. These things shine through all veils words can concoct and humble all preconceived notions. 
Raw and basic communication crosses all cultural barriers and is part of what it is to be human. 
North America once had over 2000 different languages,  yet tribes traded and intermingled with one another frequently. We are all the same species, no matter what culture we come from, and we will always be able to communicate with each other. We have the same brains and developmental stages. And so, I have found, that children are children, everywhere in the world.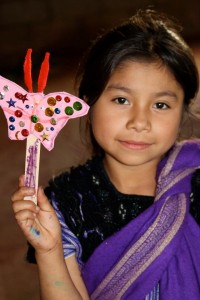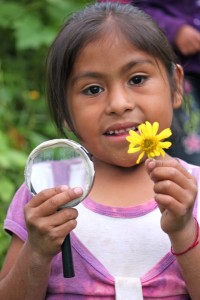 As long as I understand the way of the child, I will be able to successfully interact with children of any culture without getting caught up within the confines of language barriers. 
What do you think? Is it necessary to speak someone's language to communicate with them? What are your travel stories of crossing language barriers?