Announcing in-person classes planned for summer of 2021!
All p

rograms are held at 6962 Burr Street in Benzonia, Michigan.
State mandated COVID-19 protocols will be carefully followed. 
To register for programs, contact: amaliaceleste@gmail.com/231-871-0276
Nuts 4 Nature camp is currently full, but you are welcome to join the waiting list. 
This collaborative program with the Benzie Conservation District will include scavenger hunts, art projects, science experiments, nature walks, and gardening. Visiting scientists will facilitate educational activities each afternoon such as dip netting for macroinvertebrates, testing soil samples, and identifying native trees. Morning programming will feature an animal detectives approach to learning about the classification of living things. Search for insects, handle reptiles and amphibians, play birdwatching games, and find out how to identify mammal tracks!
Cost: $160/Day Rate: $40/Half Day: $20 (15% sibling discount)
August 2-5
Take a trip around the world with daily slideshows, art projects, continent songs, games, and nature walks that help children to creatively explore the major ecosystems of each continent. Activities promote a comprehensive world-view of geography while comparing and contrasting the native environment. Miss Amalia will share her stories of working with children and animals on six continents, caring for orphaned orangutans, following Komodo dragons, releasing sea turtle hatchlings, and so much more to life in this unique nature class experience.
Cost: $160/Day Rate: $40/Half Day: $20 (15% sibling discount)
August 9-12
Take a closer look at the archeology and paleontology of Michigan's pre-history. From volcanoes to ancient seas, dinosaurs to ice age mammals and early inhabitants. Participants will learn through art, games, stories, and hands-on science experiments. Nature walks and program animals are always part of the fun at the Nature Explorers outdoor classroom in Benzonia!
Cost: $160/Day Rate: $40/Half Day: $20 (15% sibling discount)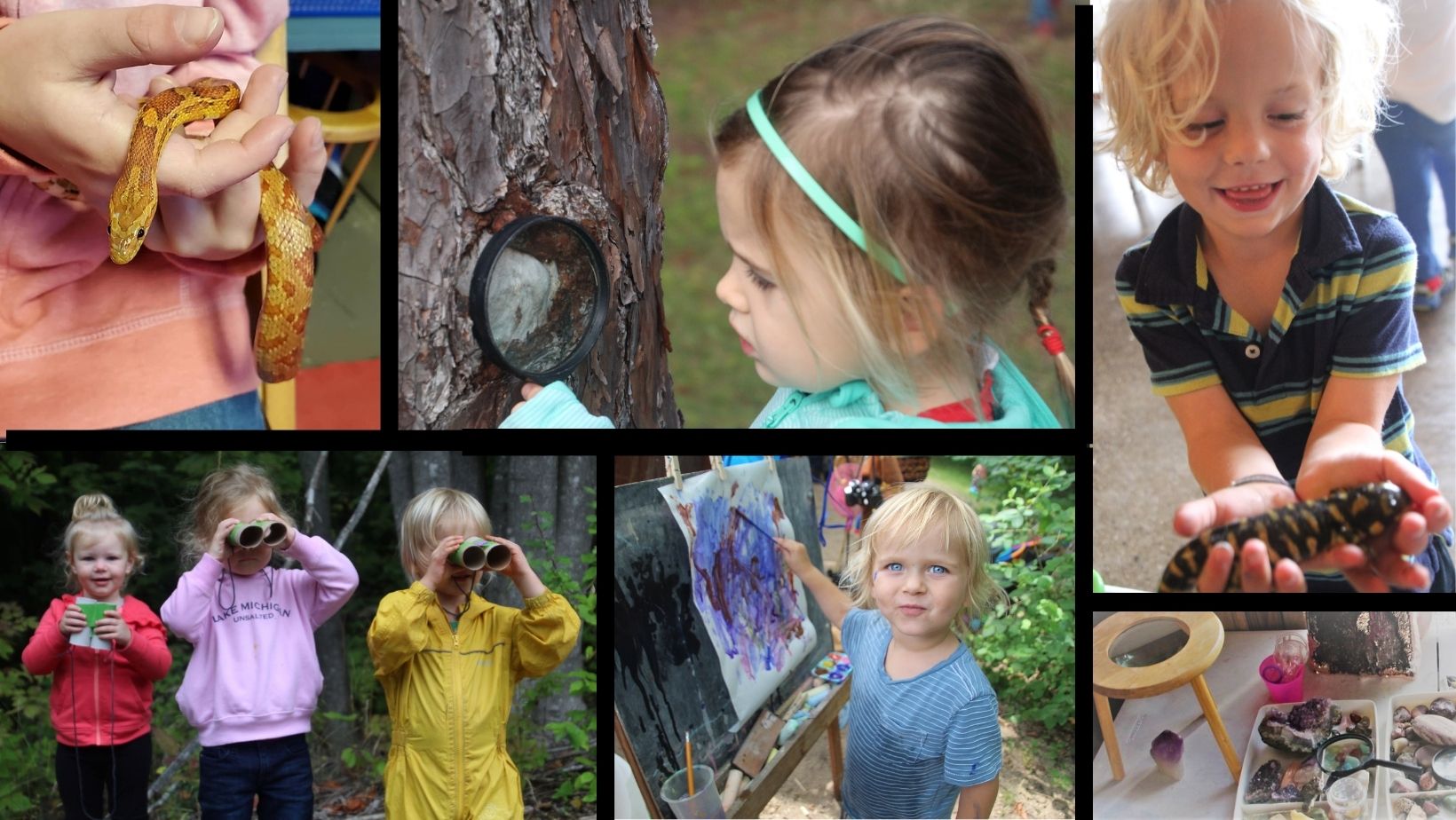 August 16-19
An introduction to both the living and non-living things in nature designed for young learners. The first day will introduce rocks, crystals, fossils and volcanoes. The second day will focus on plants and seeds, the third day on insects and spiders, and the last day on wildlife. Discover the local environment through art projects, science experiments, nature walks, puppets, songs, stories, and live animals!
Cost: $90/Day Rate: $25 (15% sibling discount)
Please note:
~Children will be in smaller groups with closer age ranges for activities.
~If you have a credit from last year, it will roll over for any of the above. If these dates don't work, I can offer a refund.
~An outdoor classroom will be set up under a large tent in the lower parking lot instead of using the indoor classroom space.
~Registration is scheduled to open February 20.
To register, email: amaliaceleste@gmail.com
The camp director, Amalia Celeste Fernand, has a Master of Science in ecological leadership and education, and a background in environmental, experiential, and Montessori education. She has facilitated programming with children in countries around the world, currently teaches online on Outschool, and recently published her first book: "Michigan Wildlife, A Coloring Field Guide." Amalia founded Nature Explorers International (NEI) with the mission to: inspire excitement and curiosity for the environment through art, science, and outdoor experiences.